Youth On Sundays
During term time, those who are aged between 11-15 have their own group for Bible teaching, discussions and activities. They meet at 11am in church and then head out after about 15 minutes to 6 Church Lane. Youth on Sundays is on the 2nd and 4th Sunday of the month. Those aged 16 years and above remain in church.
Monday Night Youth Group
On Monday nights we dive into God's word and explore some of life's big questions. It is also a chance to hang out and catch up with each other over a cup of tea and cake! Monday Night Youth is open to any young people aged 15-18 and meets between 7:30pm – 9:15pm at 19 St Ives Road, Hemingford Grey.
Click here for the 2018 Autumn term card. Monday Night Youth Term Card
Friday Night Youth Socials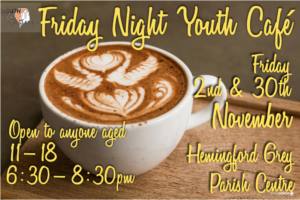 Anyone aged 11-18 is welcome to join us at St James' Parish Centre on the last Friday of the month from 6:30-8:30pm. In addition to the main activity or theme, there is table tennis, games consoles, tuck shop and finishes with a short talk from the Bible.
Click here for the 2018 Autumn term card.Friday Night Youth Social Term Card
Activities
Christmas family Quiz night! Watch this space for more details – For now put 15th December in your diary!
Summer 2019 Keswick Convention. If you would like to join the group going to the Keswick Convention this summer or have any questions about it, please get in touch with Ben Pearson.
Contact
Youth Minister Ben Pearson
07483132329
See Youth Facebook Page for more information.
[instagram-feed]
All of our groups are designed for young people to explore who Jesus is for the first time or to grow in their faith. We are committed to five basic values.
God's word, the Bible, at the centre
Jesus focused ministry
A caring community
Everyone growing / maturing
Everyone sharing the Gospel of Jesus